Made Locally in Sydney, New South Wales
WINNING BID/ $450 (Chris y. VIC)
Furniture maker Tim Noone and contemporary artist Artem Bryl nominated the Children's Hospital at Westmead, who provide the best care possible to our sickest children and their families.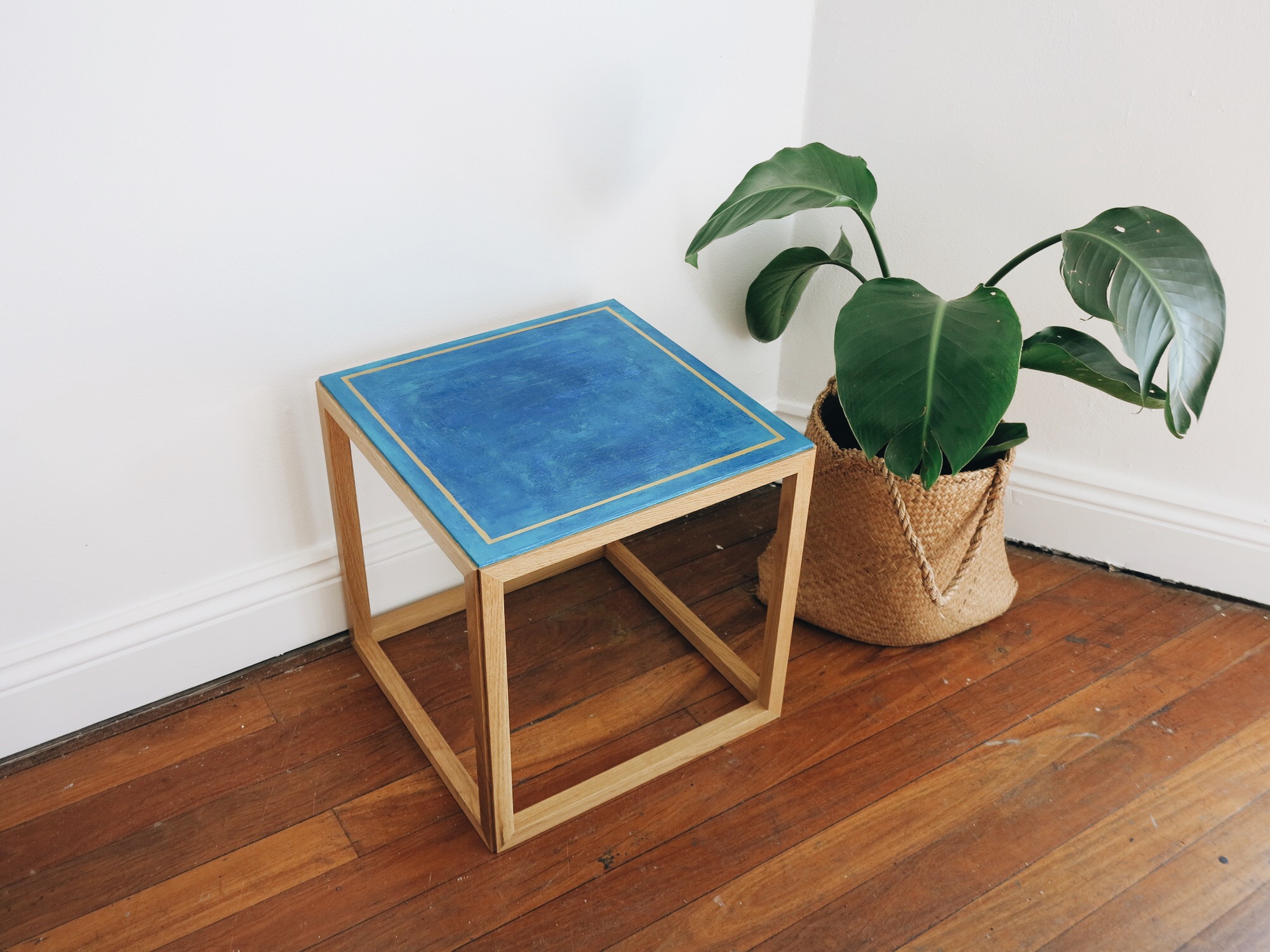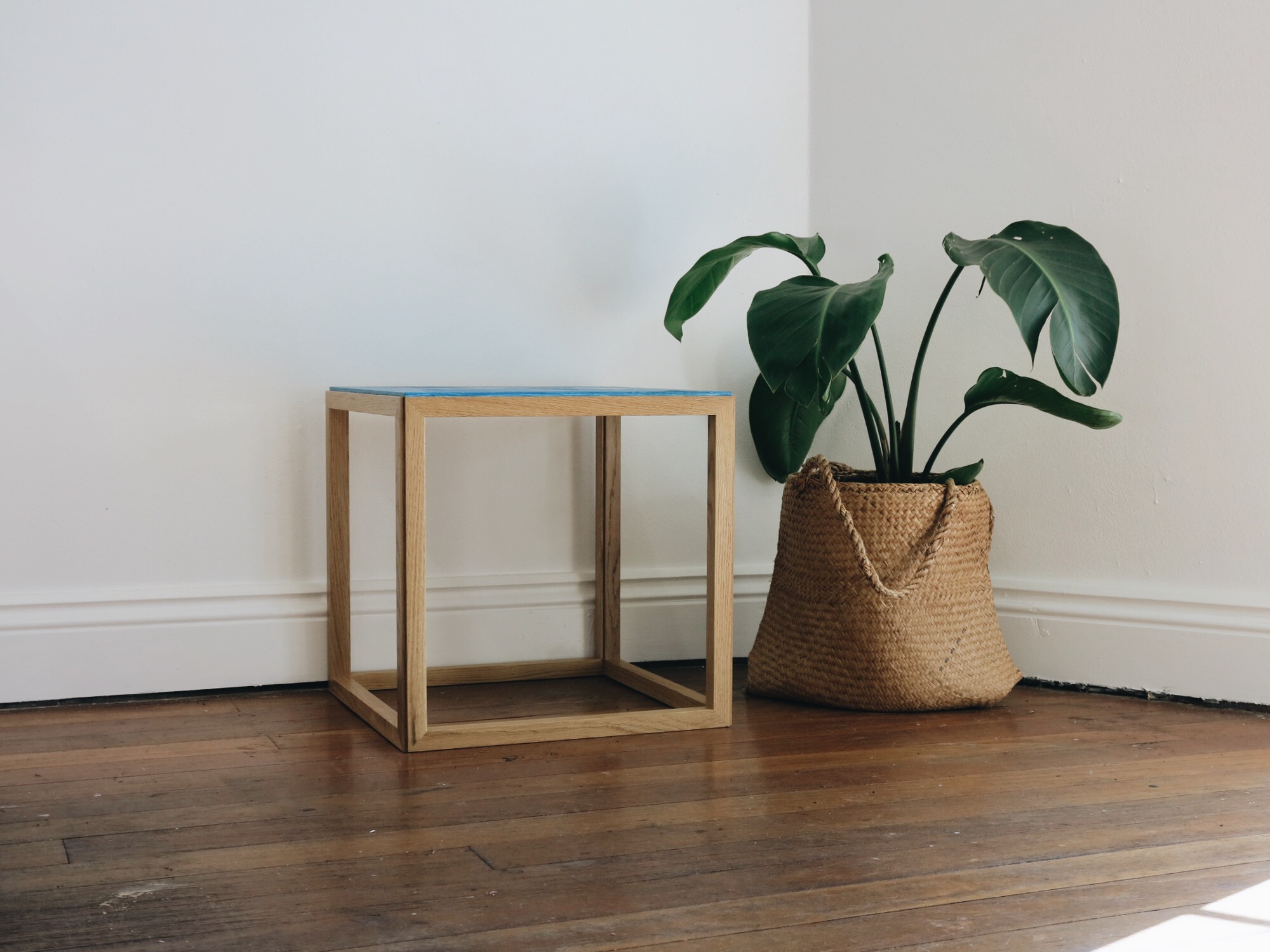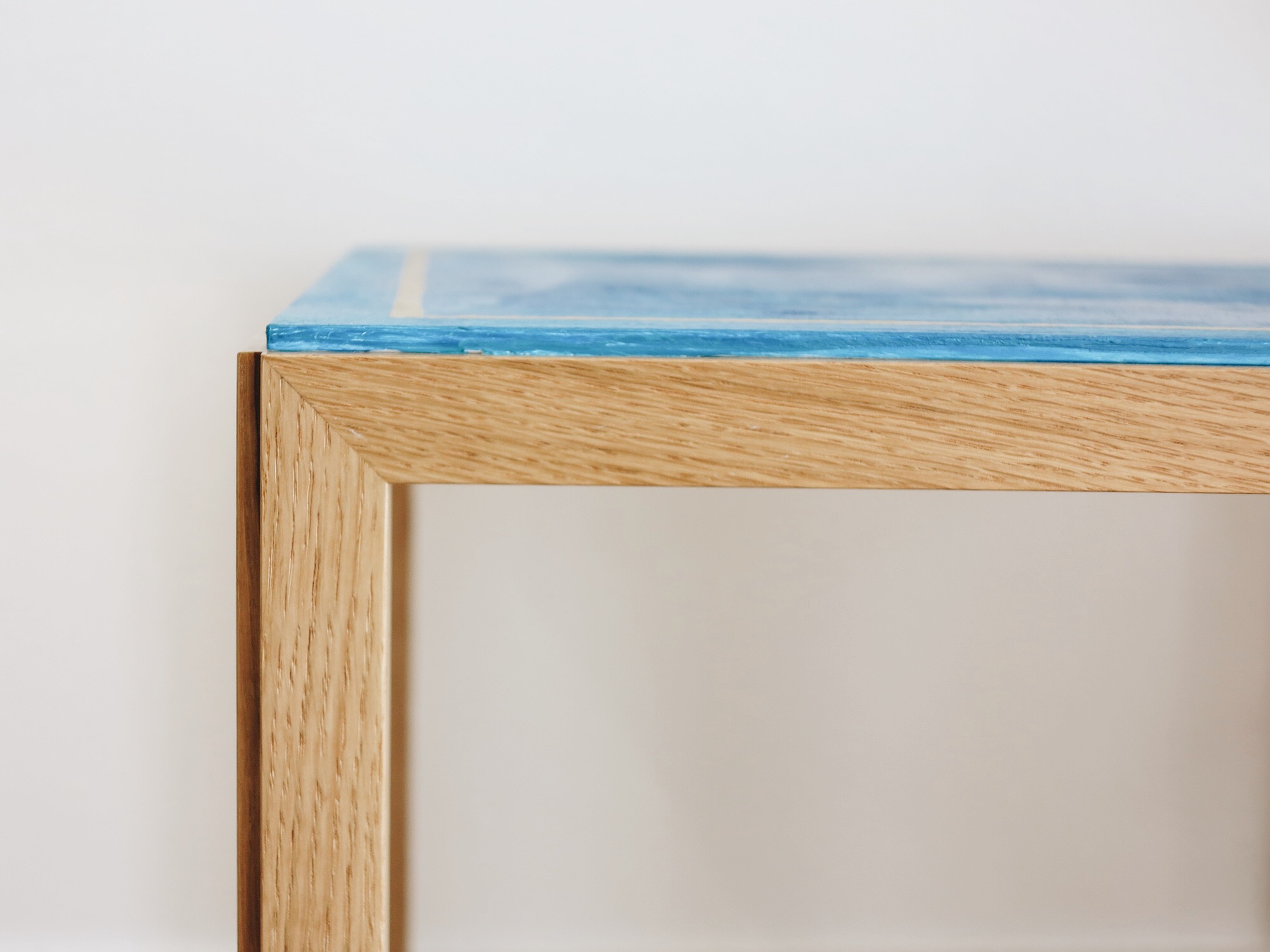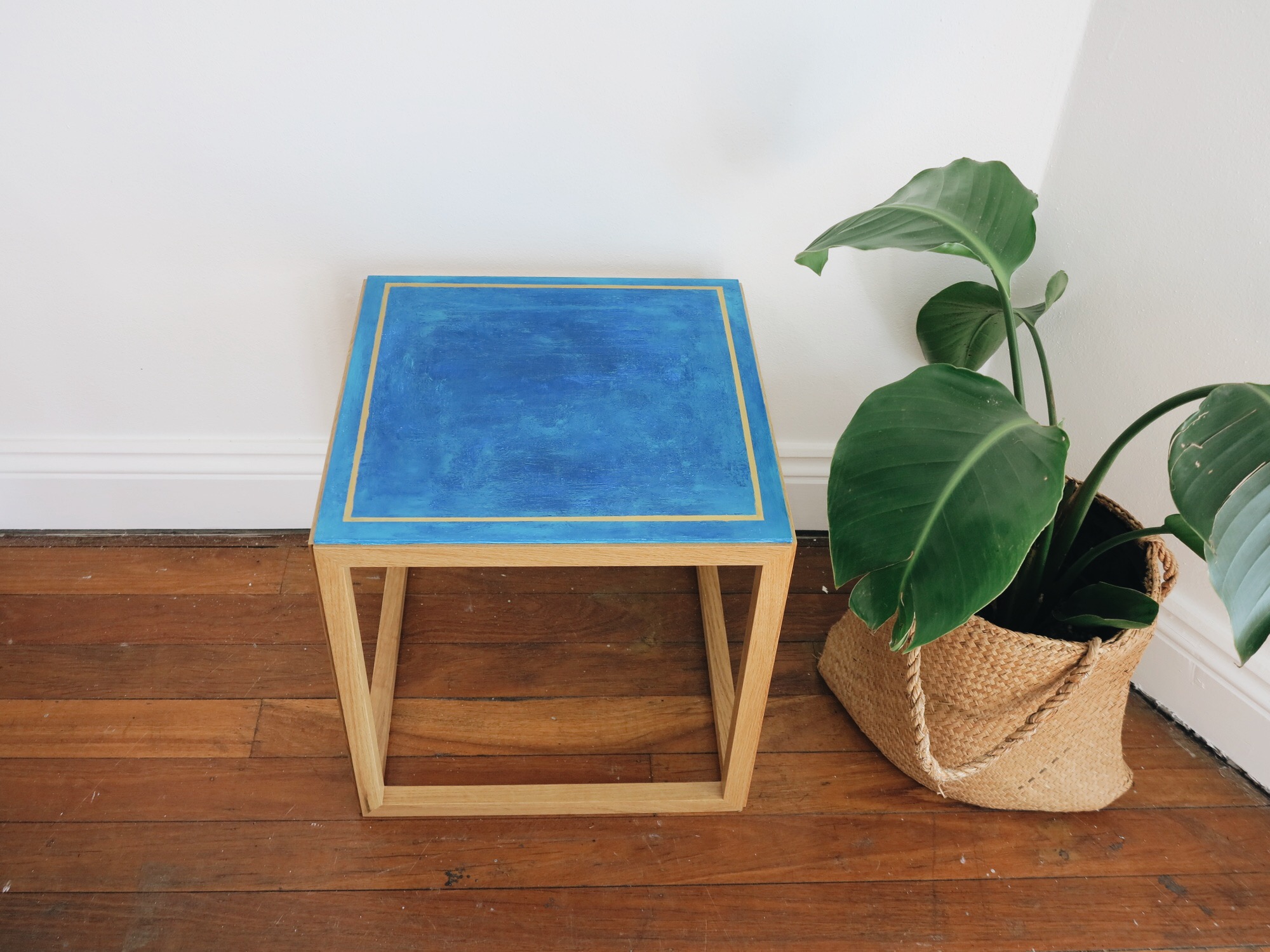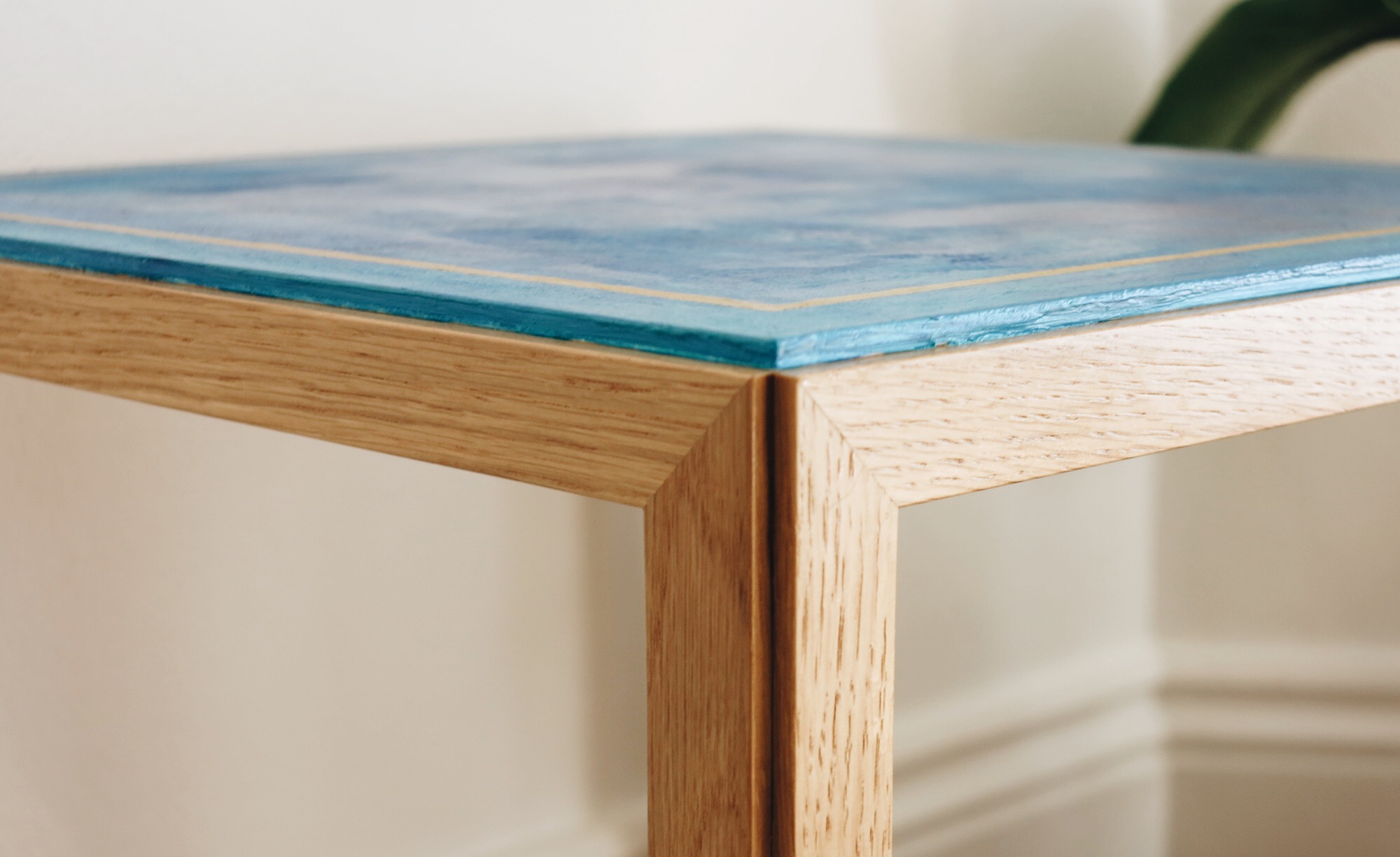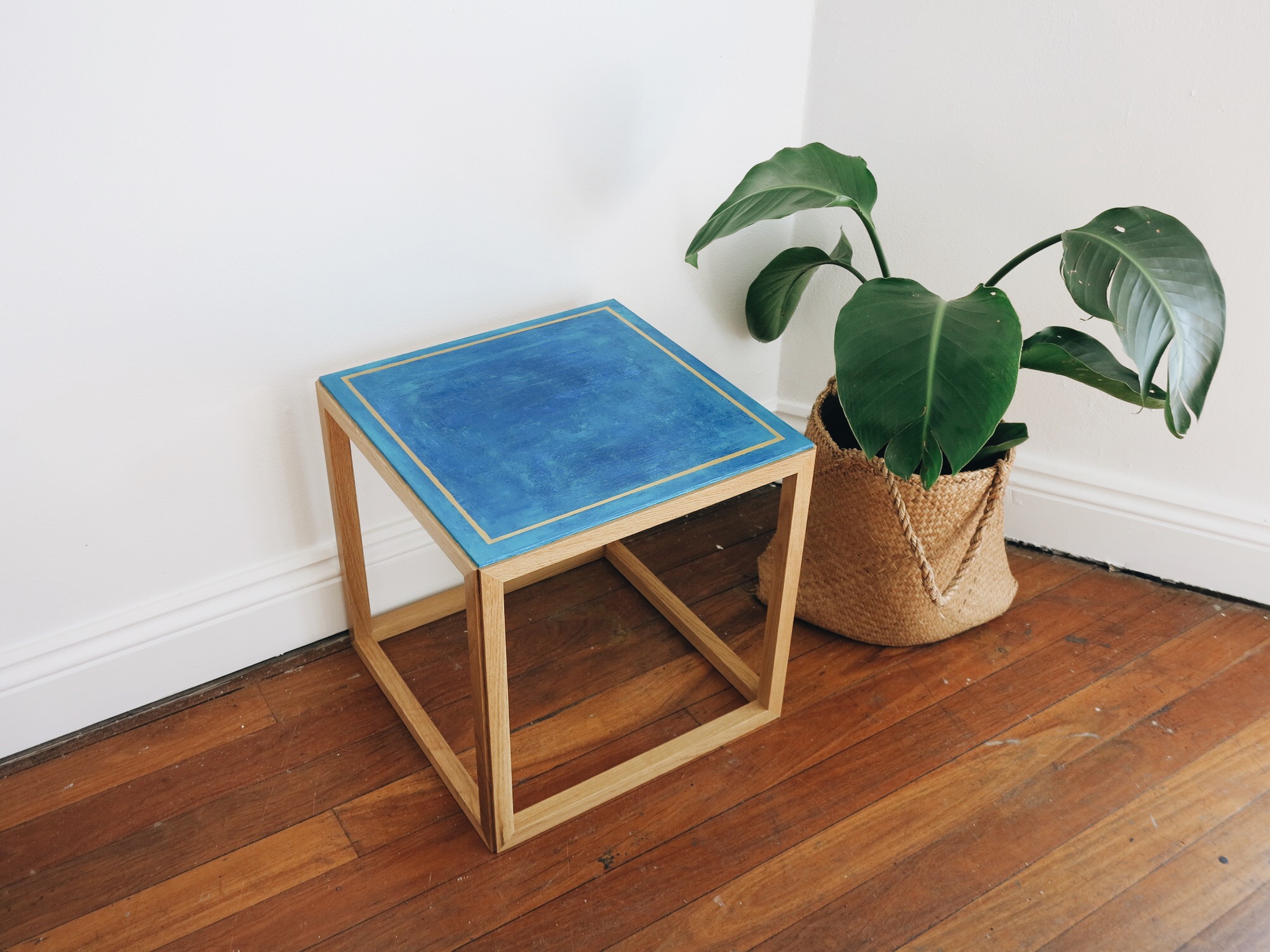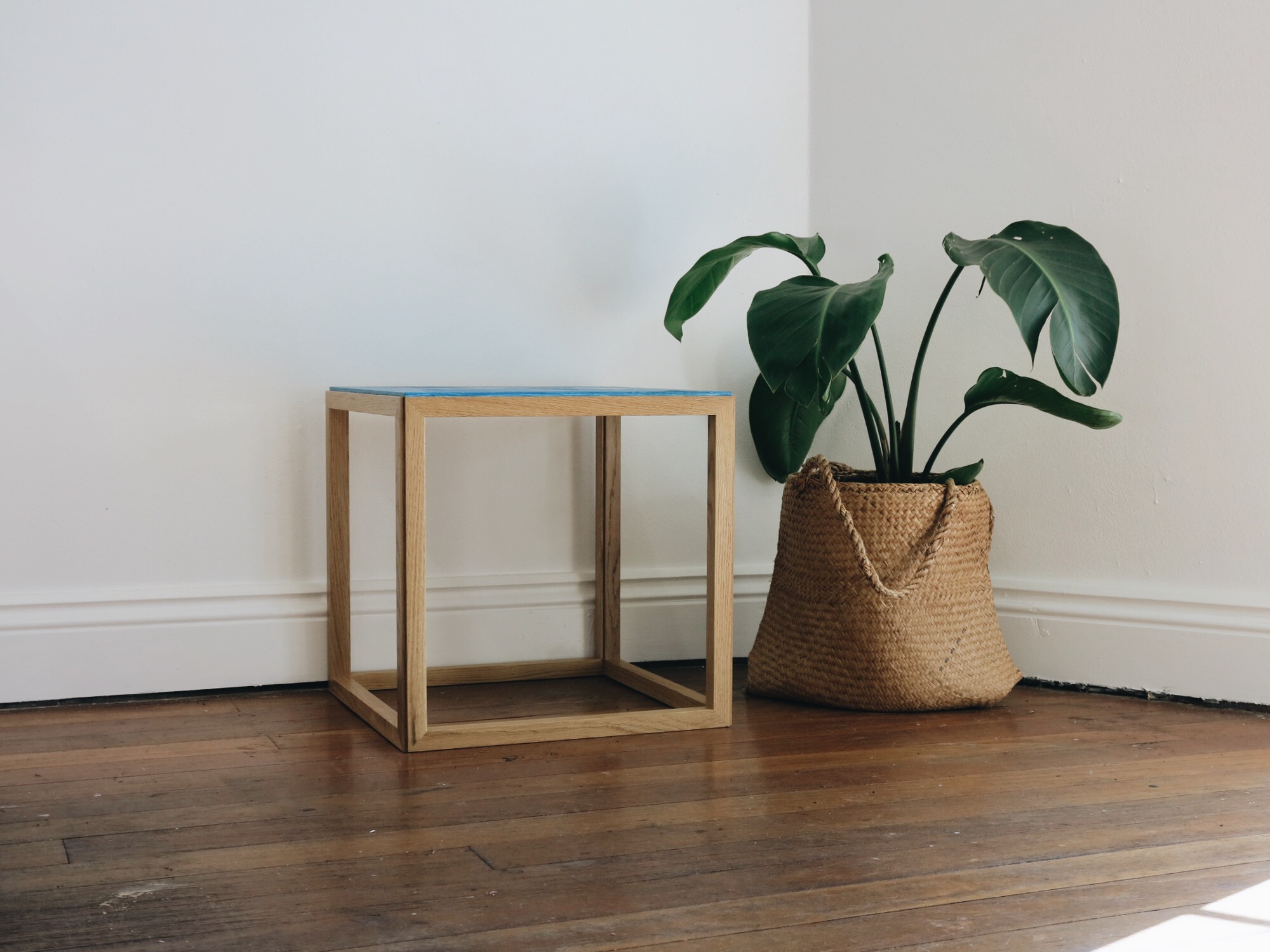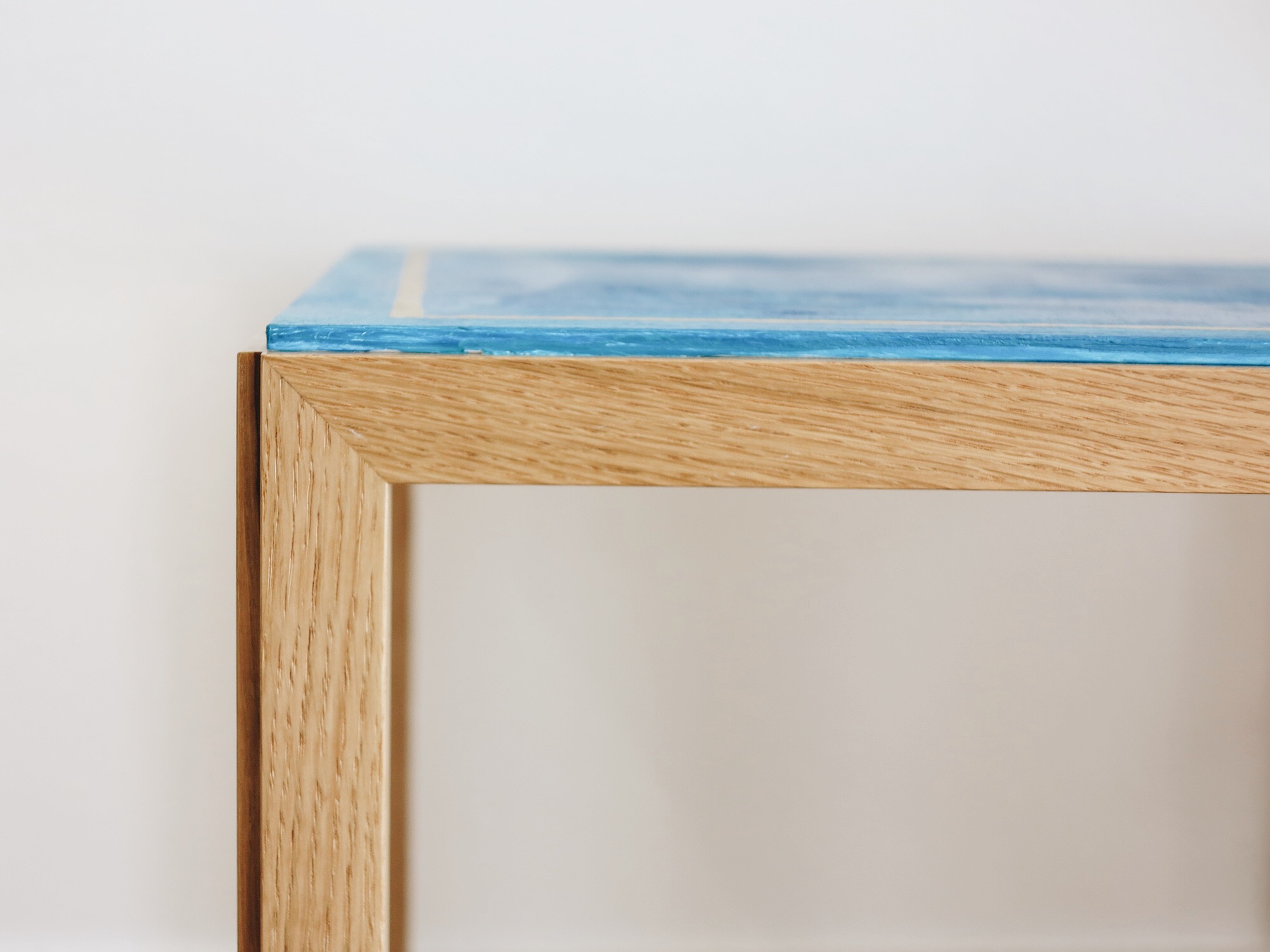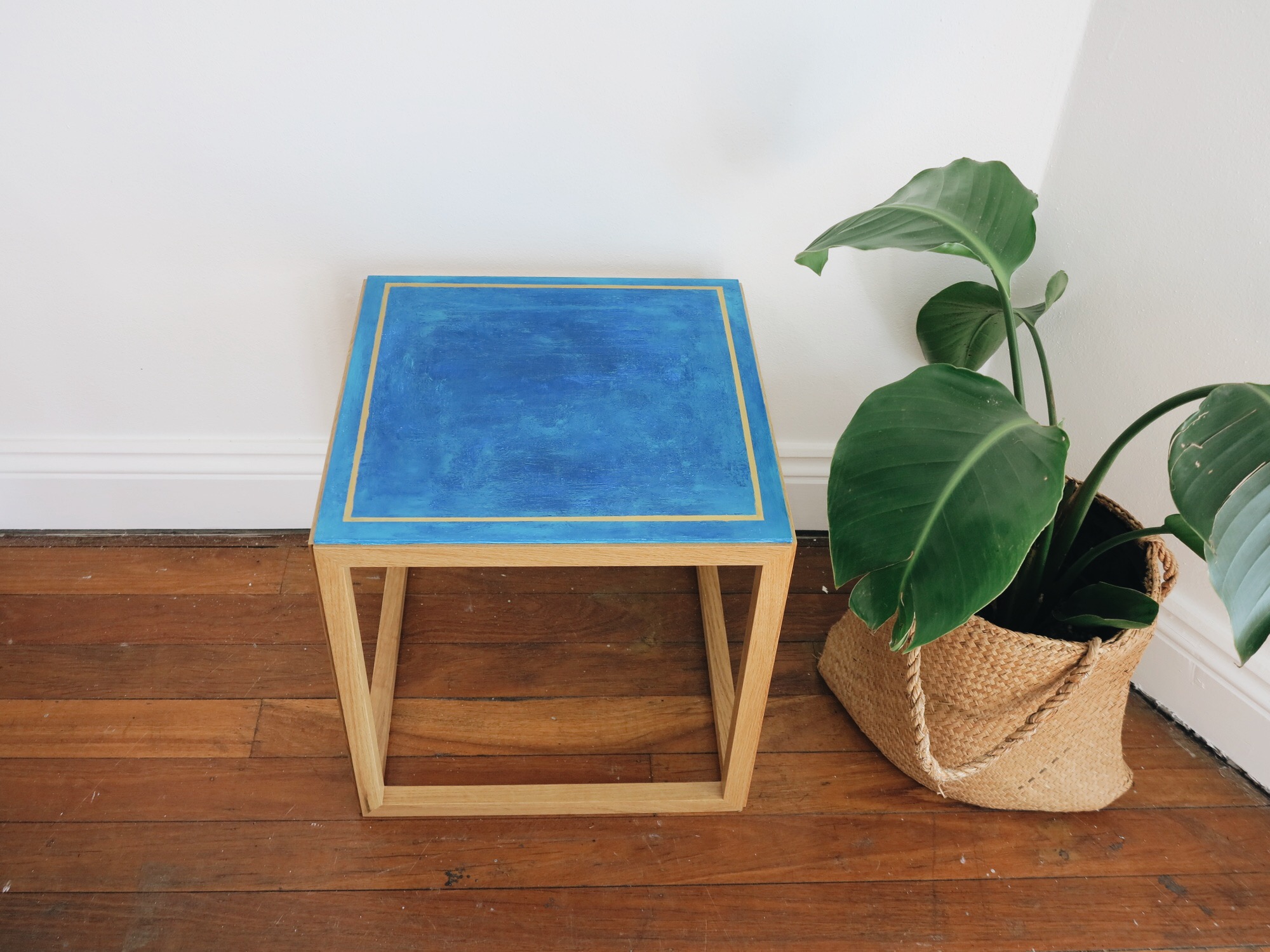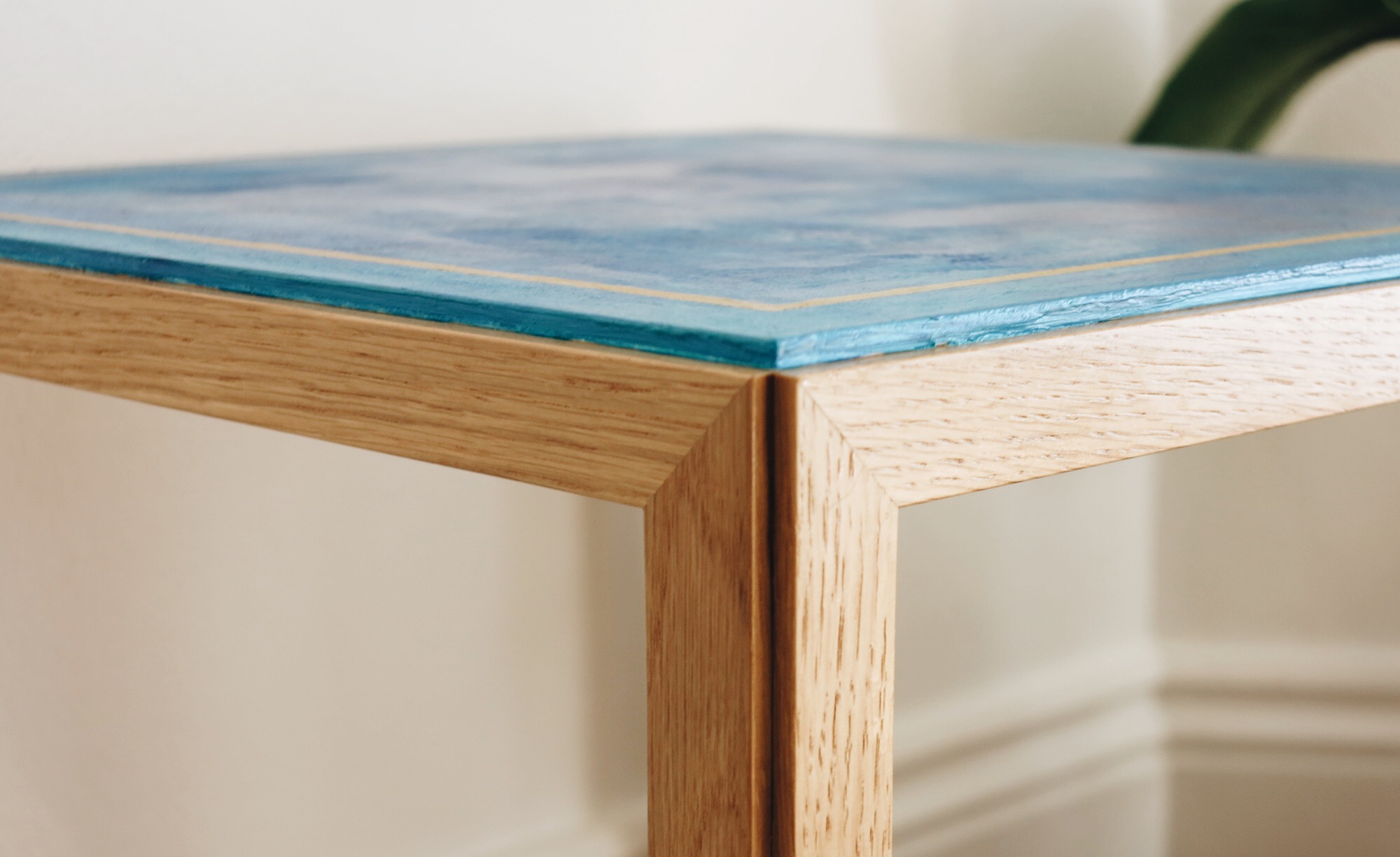 THE Product/ Neo Partis
Tim's construction idea for this side table came from trying to upcylce offcuts from bigger jobs into something new, rather than just throwing them out.
Neo Partis is Latin and roughly translates to new direction, or path. Tim has taken a new direction in furniture with this design and so has Artem by collaborating. Artem has added his signature distressed painting style to the table top and incorporated the squares and symmetry of Tim's architectural design.
Tim and Artem selected the Children's Hospital at Westmead because they feel children are among the most vulnerable in our society. "The kids hospital allows kids who are going through hell to just be kids," says Tim. "We think it is incredibly important for kids development to be allowed, as much as possible, to just be kids."
Timber/ American Oak
Finish/ UV resistant gloss varnish
Painting/ Gesso + High Quality Acrylics
Dimensions/ 410mm (W) x 410mm (H) x 410mm (D)
Location/ Sydney, New South Wales
Place your bid on Neo Partis
WINNING BID/ $450 (CHRIS Y. VIC)
THE Maker/ Tim noone
Tim approaches the design and making of furniture from an inbuilt passion and inherited love of the craft. One side of his family built coaches and the other owned and operated a timber mill in Heron Creek. Wood is Tim's bloodline – to pursue woodwork was a natural step.
His designs tend to flow organically, with soft curves and clean uncluttered forms; nothing ornate or extravagantly decorated. Predominantly one timber is used with a complementary timber for small details. He finds his pieces often 'ask' to be of a single colour to reveal lovely grain patterns and let the timber speak for itself. When designing a piece or a range of furniture, Tim is driven by a desire for beauty above all.
At the end of the day, Tim is doing what he loves. This is reflected in each and every facet of his work.
View Tim's Handkrafted Profile here.
the Artist/ Artem Bryl
Artem's paintings are held in collections in Australia' Europe, the US' Russia and Singapore. His artworks have been exhibited in Europe' the US and Australia. Artem's passion for life and its beauty is encapsulated in his artworks. Art is an emancipation to freely express himself' a vehicle that allows him to share his individuality and world with others. Join him on this endless journey of discovery.
View Artem's Bluethumb Profile here.
the Charity/ the Children's hospital At Westmead
Every day the Children's Hospital at Westmead treats hundreds of sick and injured children. Sadly for some of these children, there is no known cure for their illness.
But thanks to advancements in research here at The Children's Hospital at Westmead, better treatments and prevention are getting closer every day. Until then, we strive to give the best care, with children first and foremost, every day.
Your donations big and small, help The Children's Hospital at Westmead provide the best care possible to our sickest children and their families.
View the Children's Hospital at Westmead's website here.
View Other worKs By tim and artem