Made Locally in Melbourne, Victoria
WINNING BID/ $1,000 (Sarah r. VIC)
Christopher Blank's Luke Atkins and Veronica Paiva, and contemporary artist partner, Stephanie Harris nominated Médecins Sans Frontières, the world's leading independent organisation for medical humanitarian aid.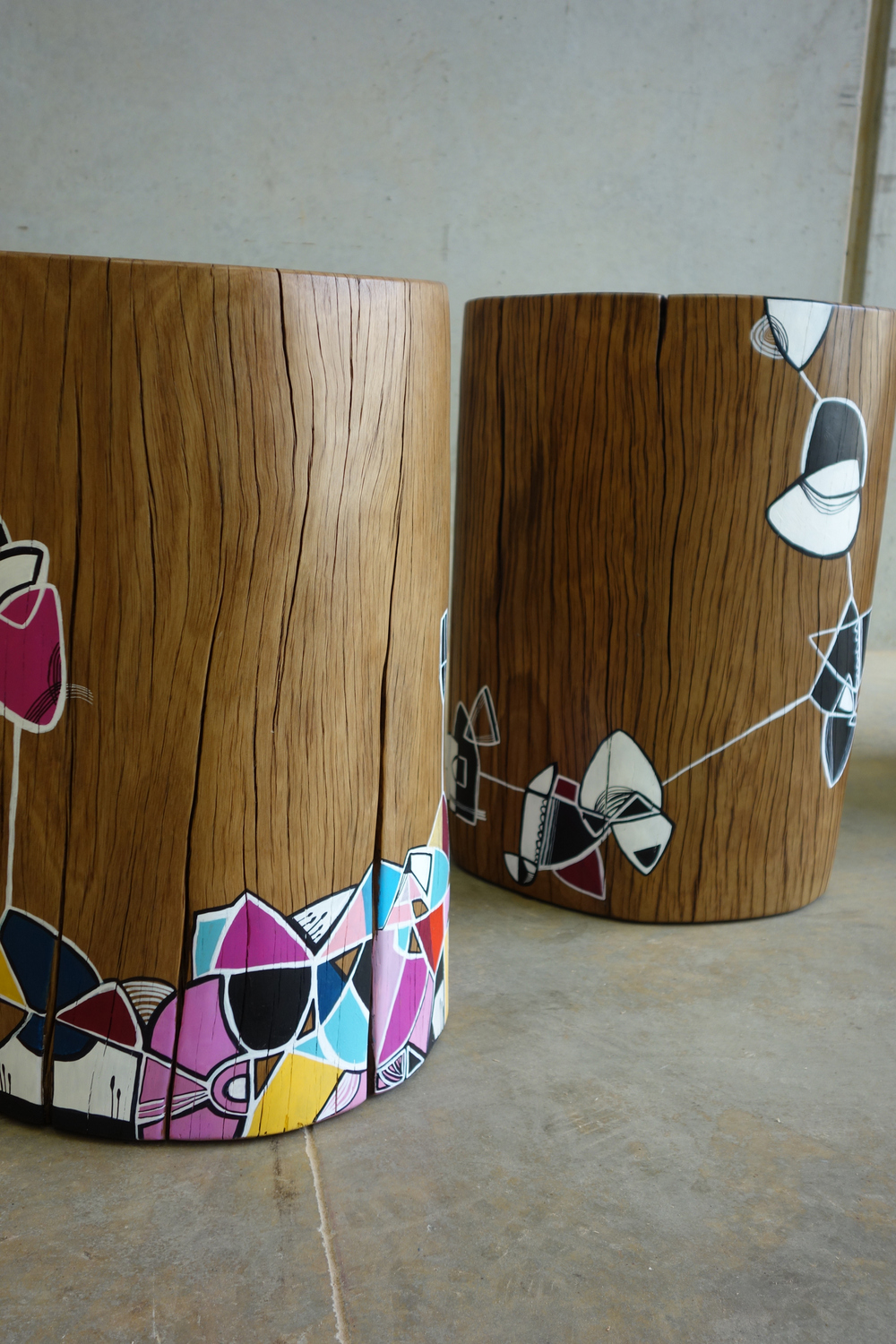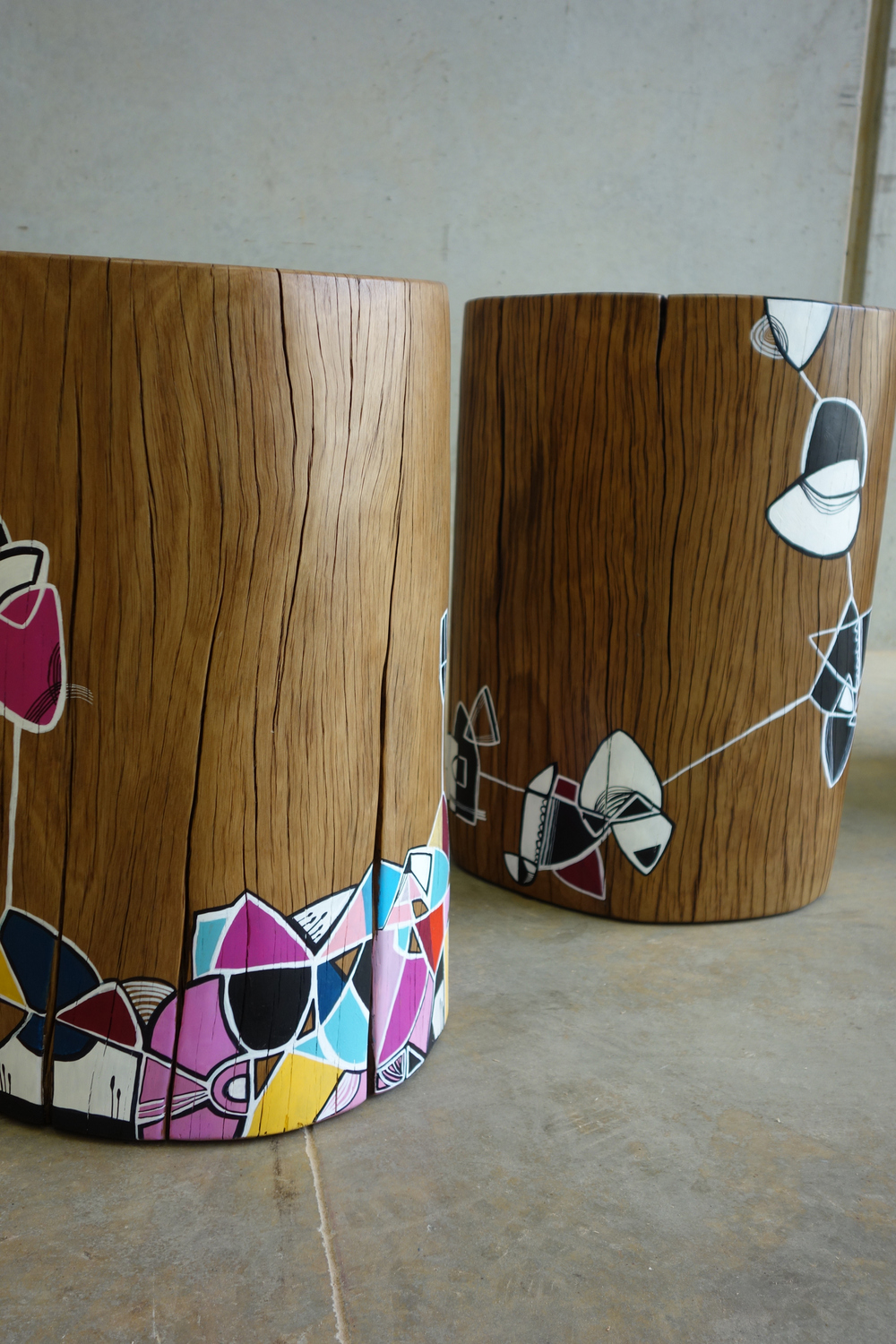 THE Product/ HUMPTY STUMPTIES
Steph, Luke and Veronica collaborated on all initial concepts. Ideas were always around pieces that were versatile and could have many outcomes – a stool, a side table, a sculpture.
After many discussions – they decided simple was best to showcase the Stumps and Steph's artwork. Simple designs often appear as just that – simple. However, many hours of work have gone into preparing and painting the timber to become pieces of individual artworks that can be displayed together or as individual pieces.
Timber naturally has a unique pattern and shape. Repetition, shape and individuality all at the same time. Steph has used organic shapes that echo each other, are unique and leave space for the beautiful qualities of the timber to show through - A happy meeting & interplay between nature & modernity.
Upon delivery of the stumps to Steph's Studio – new ideas where born and Steph had a new response to the finished timber to reveal the artworks you see today.
The name Humpty Stumpties is just a bit of fun. Both collaborators feel that Art can make you smile, make you happy and add joy to your environment.
Timber/ Blackbutt
Finish/ Osmo Hardwax Oil
Paint/ Acrylic and Ink
Dimensions/ 360 diameter x 520 high
Location/ Melbourne, Victoria
Place your bid on the Humpty Stumpties
WINNING BID/ $1,000 (SARAH R. VIC)
THE MAKER/ Luke Atkins and Veronica Paiva, CHRISTOPHER BLANk custom furniture
Created by husband and wife duo, Luke (Christopher) Atkins and Veronica (Blank) Paiva, CHRISTOPHER BLANK is a Melbourne based-and-made, custom-design studio dedicated to creating functional, well-made furniture and homewares from sustainably sourced timber.
Drawing on over 12 years' experience in furniture and design; Luke's in Carpentry – specialising in restoration and heritage homes, and Veronica's in Design and Visual Merchandising for global luxury retailers and brands. CHRISTOPHER BLANK was born from a collective passion (some might say, obsession) to produce quality, handmade pieces with their minds and hands, always honoring the integrity of the materials they use.
From design to construction, they collaborate closely with their clients every step of the way. Seeing each bespoke creation find its place into your everyday is what makes them (and workshop hounds, Barbarella and Betty) happy.
View Luke and Veronica's Handkrafted Profile here.
the Artist/ Stephanie Harris
Melburnian Stephanie Harris studied a Bachelor of Visual Art at Deakin University. Her art is about fun and colour' energy and expression; keeping things light and bright.
Stephanie hopes that her paintings can provide a bit of a happy distraction from the more serious or mundane aspects of everyday life' lifting someone's mood or adding energy to a room.
View Stephanie's Bluethumb Profile here.
the Charity/ Médecins Sans Frontières
Médecins Sans Frontières is the world's leading independent organisation for medical humanitarian aid. Every day 30,000 Médecins Sans Frontières field staff are providing assistance to people caught in crises around the world.
They have offices in 19 countries supporting these teams, including their office in Sydney. Every year nearly two hundred Australians and New Zealanders are sent to and supported in the field by Médecins Sans Frontières Australia.
View the Médecins Sans Frontières website here.
Timber for this piece was generously donated by Britton Timbers
Australia's Exotic Hardwood Specialist
View Other worKs By Luke & veronica and Stephanie